What We Do When We Need to Remove Impacted Teeth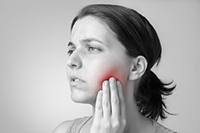 If your tooth partially or completely fails to break through your gum, it is said to be impacted. This may result from genetic reasons or if your mouth lacks enough space for it, such as in wisdom teeth. An impacted tooth can be painless and only discoverable through an X-ray. In some individuals, an impacted tooth can be painful and require immediate extraction.


Signs of an Impacted Teeth

An impacted tooth will show signs including bad taste, foul breath, difficulty in opening your mouth, chewing, biting, red, swollen, and bleeding gums. These symptoms will range from a week to months and become severe with time.


Diagnosis of an Impacted Tooth

If you suspect you have an impacted tooth based on the above signs, you should schedule an appointment with us as soon as you can. We will do a physical examination and an X-ray to determine if an impacted tooth is the cause of your symptoms. If you are experiencing pain or other unpleasant symptoms, we will recommend surgical removal of the tooth. However, this may not be the case if you do not have any symptoms since we will recommend that you wait to see if any problems will develop.


Surgery

Surgery is ideal if you are experiencing pain or if your impacted tooth is negatively affecting adjacent teeth. The surgery is an outpatient procedure and will take about an hour to complete under local anesthesia. During the procedure, we will make an incision on your gums, remove the impacted tooth, and close the incision using stitches. To control bleeding, we will pack the space with gauze. Recovery may take up to ten days, but complete healing will take six weeks. However, you can resume your regular schedule a few days after the procedure. For more details on the removal of impacted teeth, contact our office today.